FEEL GOOD About Snacking!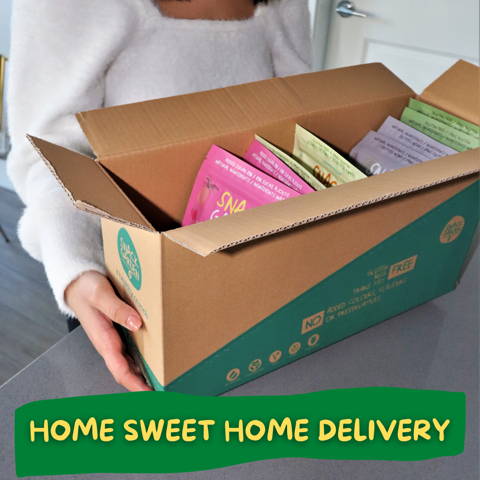 At Snack Garden, our mission is to provide quality, guilt-free snacks the whole family can enjoy.
Using industry leading preparation methods such as freeze-drying, vacuum-frying and low-temp baking, we make our snacks with the highest quality, ethical ingredients.
All of our snack ingredients are gluten-free, vegan, have no preservatives, added colours, artificial sweeteners, and hydrogenated oils.
Additionally, our snacks are vegetarian, non-GMO, cholesterol-free, and trans-fat free.
How it works?
You can order single packs or boxes of 10 and 15 of any snack.
Our Variety Snack Box comes in both 8 and 16 pack boxes (2 or 4 pack of each snack).
Every pack is filled with 1-2 servings of guilt-free crunchy goodness!

All orders are shipped out the same day!

Our guilt-free promise means, no artificial colours, flavours or preservatives.

100% Non-GMO & Gluten-Free

Our snack ingredients are 100% non-GMO and gluten-free so you can enjoy them guilt-free!
What do first time customers think?

"Love throwing a small handful over cereal, oatmeal, and ice cream! I like the texture and crunch of these fruit chips more than the typical dried fruit. They are very crunchy and flavorful."

"By far the best snack box I have bought. Everything is fresh and aromatic. I take them to work and pack my sons lunch with Snack Garden everyday."

"Second re-order! I love dried fruits and have a hard time finding real freeze-dried fruits that are this affordable and high quality. Fast shipping and super flavourful! My favourite snack brand."
What Do People Really Think?
Are Snack Garden products gluten-free?
All of our ingredients are healthy, delicious and gluten free. They are also suitable for vegan and vegetarian diets.
Do any of our products contain nuts, sesame seeds or sulfides?
None of our snacks contain nuts, sesame seeds or sulfides.
How do you offset your carbon footprint?
We have partnered with the Carbonfund.org Foundation to neutralize our carbon footprint by supporting reforestation and forest preservation projects through them.
What is freeze-drying and why is it good for me?
Freeze drying is a remarkable method of food preservation that does not damage the nutritional value of food. It works by freezing the food, turning the water within it into ice. Then using pressure to make the ice evaporate, leaving the food intact but without any water. Other methods of food preservation, such as canning and dehydrating, use higher temperatures that destroy nearly half (50%) of the food's nutritional value. With freeze-drying the consistency, shape, colour and intense flavour of the food stay the same while preserving 90% of it's nutritional value.
What is vacuum-frying and why is it a good alternative?
Vacuum frying is a healthier alternative to deep-fat frying. It uses a vacuum chamber rather than a fryer, which means that the food can be cooked at a lower temperature. According to the Journal of Food Science, this significantly reduces the amount of oil the food absorbs and helps to preserve the food's vitamins and colour. This makes vacuum-frying a great way to produce nutritious and novel snacks with the taste we love.
We would love to answer any of your questions or inquiries. Just fill the contact form on the contact us page and we will get back to you within 24 hours.
We are here to answer any questions or inquiries you have!
Please email us at info@snackgarden.ca, call us +1 778-340-7776 or fill out the contact form bellow.